Check our latest newsletter for updates on:
CANCARE Research Award
Exciting new guidelines and KT tools for AF and HFrEF
CHFS's annual HF Update 2022 is coming up May 13-14
CANCARE Research Award

The 2022 Canadian Cardiovascular Congress (CCC 2022) will be a hybrid event, from Thursday, October 27 to Sunday, October 30. Delegates will have the option of attending in-person in Ottawa, ON or connecting digitally.
The Call for Science is now open! Consider submitting your abstract for the CANCARE Society Excellence in Cardiac Critical Care Research Award.
The CANCARE Society Excellence in Cardiac Critical Care Research Award was created in 2015 to recognize excellence in cardiac critical care research. Applicants must submit their abstract via the CCC abstract submission site. When submitting your abstract you must indicate that you would like to be considered for the CANCARE Research Award under the 'Recognition, Awards, & Bursaries' task.
The award will be presented at the CANCARE Annual General Meeting (AGM). The winner will receive a $500 cash award, as well as an honorary plaque.
CCC abstracts submission deadline: May 3, 2022 (Noon EDT).
Guidelines and KT Resources
The Canadian Cardiovascular Society (CCS) has published the following important Guidelines in the Canadian Journal of Cardiology to support changes in clinical practice so our patients receive the best possible care:
These Guidelines, as well as knowledge translation (KT) tools and webinars, are helpful self-directed or group learning resources for cardiology staff and trainees. Access these tools on the CCS website:
Please share this practice-changing information with your networks.
If you have questions or feedback about these Guidelines or resources, please email guidelines@ccs.ca.
CHFS's annual HF Update 2022 is coming up May 13-14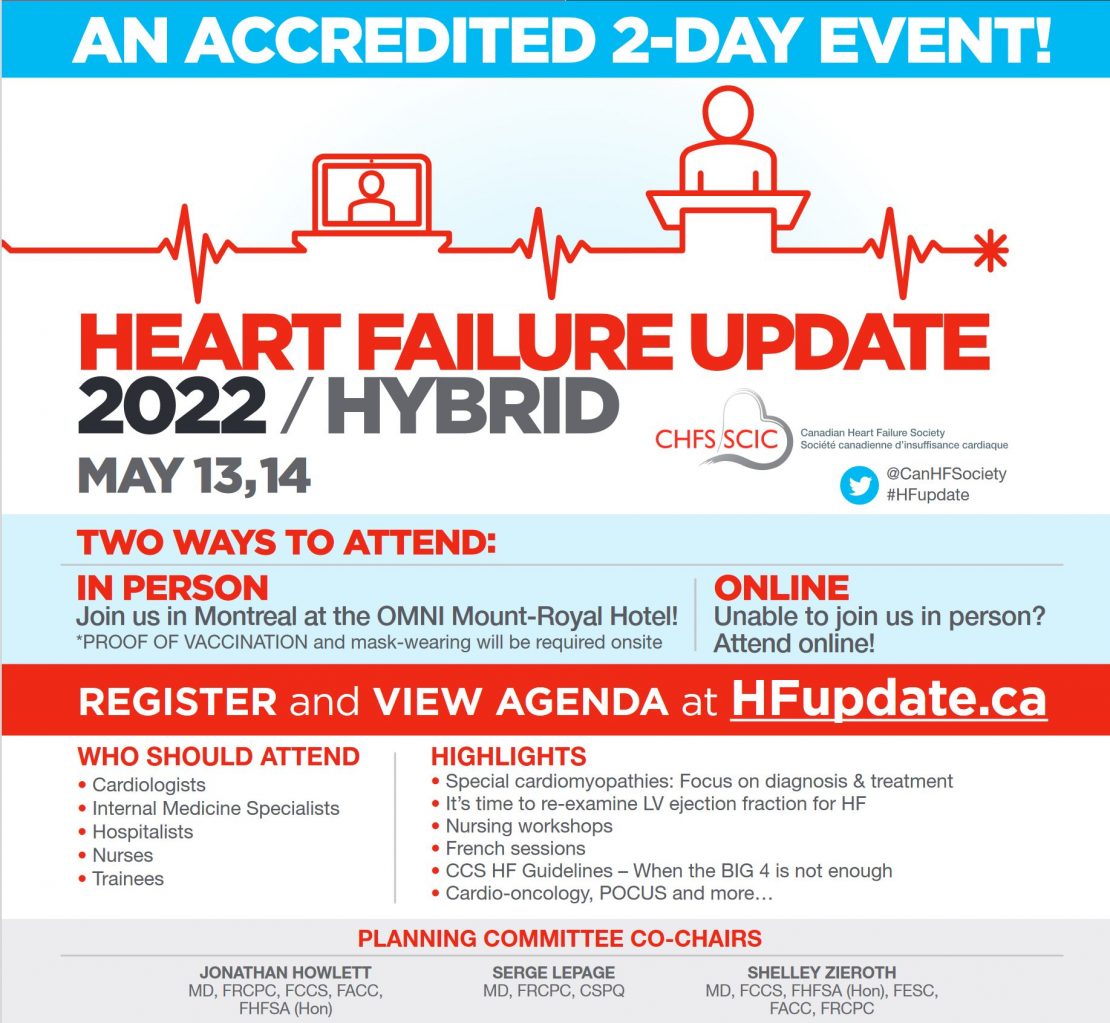 Join IN PERSON or ONLINE for HF Update 2022 HYBRID May 13-14!
For this 9th edition, the Canadian Heart Failure Society (CHFS) looks forward to welcoming you in person in downtown Montreal or online for an engaging virtual experience. The in-person event will be held at the OMNI Mount-Royal Hotel (see hotel details and discount code on the registration page).
Re-thinking HFpEF is this year's theme but a wide range of current topics will be featured in our plenaries, workshops, Corridor Consults and symposia.
The CHFS is delighted to announce the presentation of joint sessions with the Heart Failure Association of the ESC (HFA), the Heart Failure Society of America (HFSA) and JACC: Heart Failure.
Be sure to visit the registration page, get signed up and don't miss a moment!
Renew your CANCARE Membership
Your 2022 membership renewal invoice has been sent to you by email from membership@ccs.ca. You can pay your dues online through the secure MY.CCS.ca portal. To access your account, visit MY.CCS.ca. If you have any questions or concerns please email membership@ccs.ca or call 1-877-569-3407 ext. 409.
PLEASE ENCOURAGE COLLEAGUES AND FRIENDS TO JOIN CANCARE. PHYSICIANS, NURSES, ALLIED HEALTH PROFESSIONALS, AND TRAINEES ARE ALL WELCOME!